Yeah, so we never made it to our quarry adventure because some gang of biscuits smashed up barts car (cheers dickheads!), but hopefully we'll re schedule it for sometime next week.
anyway, we're finally announcing the details of our new mini album, it's coming out on Brew Records (www.brewrecords.net) and will feature an awesome digipack designed and crafted by our mate Leemun (www.kraffhics.com).
we recorded it with Ross Halden At Ghost Town Studio's (¡Forward Russia!, Sky Larkin, Rolo Tomassi etc), and we had so much fun, Ross is totally awesome. (you can find him in our top friends on myspace)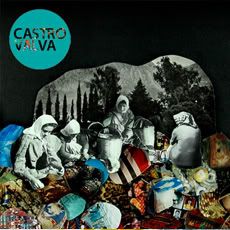 Castrovalva Mini Album
1. Max Rhodes
2. We Don't go to Ravenholm
3. Dream Carpet
4. Bison Scissor Kick
5. London Kills Me
6. My Father Bleeds History
7. Bellhausen ft. Leemun Smith
8. Triceratops
Price:: £5.00
Release date:: 4th may 2009
BRW006
so yeah, we've uploaded a track from the album on our myspace now and should have some more bits following soon.
check it out.
http://www.myspace.com/castrovalvamusic